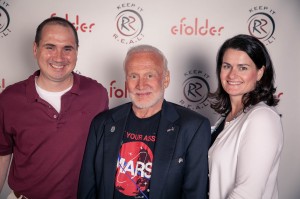 Mission Possible
How To Have
The Vision, Tenacity And Courage
To Achieve Your Own
(Seemingly Impossible)
Moon Shot
Recently I had the opportunity of meeting Buzz Aldrin. He is 86 years old and still going 90 miles an hour. How much energy are you putting into everyday?
Buzz is a big thinker. He is always thinking outside the box. This thinking got him to the moon. How far will your thinking take you?
Buzz's latest mission is to get people to Mars by 2039, the 70th anniversary of his own moon landing. He helped establish the Buzz Aldrin Space Institute at Florida Institute of Technology.
Buzz is a great advocate for aiming high and pushing our limits. He is a great inspiration to me to strive harder and reach higher in everything that I do.
I hope you will find this post informative and useful. I am looking forward to hearing your comments. That's all I have for today, until next time make it a great day!