What You Must Do to Increase the Value of Your Growing Firm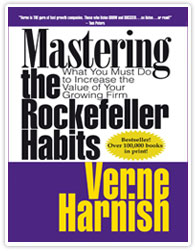 This month, I am recommending that all business owners and top executives read Verne Harnish's book "Mastering the Rockefeller Habits".
Last month I was honored to hear Mr. Harnish speak live about The Most Powerful, Proven Way To Secure Rapid, Profitable Growth For Your Business. I took so many notes and gained lots of valuable information. I have already started to implement some of his ideas at Ener Systems. I wanted to share Mr. Harnish's book with all of you. I know you will take away many great ideas that you can implement.
Verne Harnish also has a website filled with many useful ideas. You should go check it out www.gazelles.com .
I hope you will find this post informative and useful. I am looking forward to hearing your comments. That's all I have for today, until next time make it a great day!